Are you wondering how to develop or write a HACCP plan? If so, then this article is for you.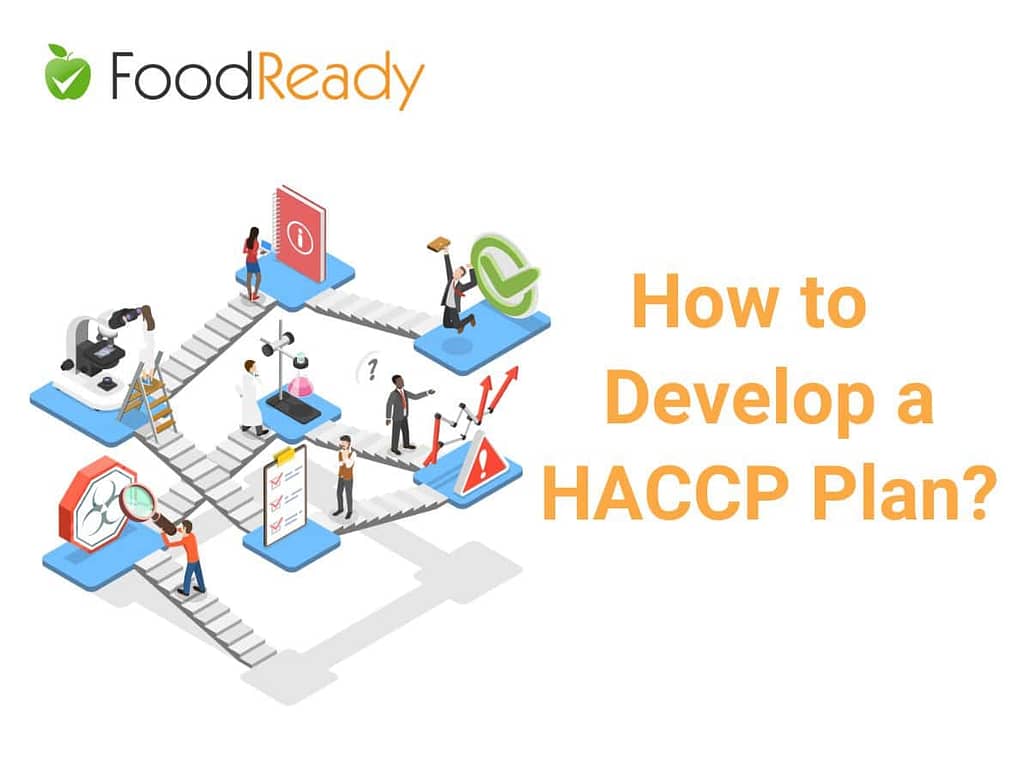 How to Write an Effective HACCP Plan?
1. Assemble Your HACCP Team
You need staff educated in HACCP principles to build and execute your HACCP plan. The staff you choose for this first HACCP plan step need to have technical knowledge of your food preparation or production and of the chemical, biological, and physical hazards present at your facility or at your restaurant. 
With Foodready's Enterprise solution, we can create your HACCP plan for you and help you set up your HACCP software/system at your business. If you need our HACCP consultant to visit your facility we can also arrange at an extra cost. 
2. Describe Your Product, Intended Consumer, and Distribution 
Let's say your product is ready to eat salsa. Here we break it down for you.
What is your product? Ready to eat salsa.
How do you receive and store your ingredients? From a verified supplier
What is your food process?
Store ambient ingredients, store fresh ingredients in refrigerators, and store packaging on shelving.
Prep ingredients.
Blend ingredients.
Package and label salsa.
Store packaged salsa in refrigerator.
Serve salsa at cold bar.
How is your product going to get to the buyer or end consumer? Shipping by truck to grocery stores and served at the cold bar.
Who is going to use and consume your product? Restaurant customers, and grocery stores.
3. Develop a Flow Chart of Your Food Process
This should illustrate a clear and simple outline of every step from receiving the ingredients to distributing the finished product. 
FoodReady food safety software has a drag-and-drop HACCP flow chart builder and a library of over seventy Food Safety / HACCP plan examples for GFSI, SQF, GMP, USDA, FDA, Local Health, and Retail compliance. 
Simply choose the template that most closely resembles your food product and customize the HACCP steps to your process.
We have a video knowledge base to help you learn this process, or you can hire one of FoodReady's food safety consultants like SQF Consultant, GMP Consultant, GFSI Consultant, FDA Consultant to build your HACCP plan for you. 
4. Verify Your Process Flow Chart
Your HACCP team then needs to verify that the HACCP flow chart you created is correct and that there are no missing steps in your food production process. Any corrections to your process are made at this time before implementation. 
5.  Perform a Hazard Analysis (HACCP Principle #1)
The hazard analysis is the step where the  HACCP team scrutinizes the production process and documents where and how any hazards can be introduced to the food process. Food safety hazards are either biological, chemical, or physical. HACCP principle #1 is perhaps the most important step in writing  a HACCP plan because this is the step that identifies food hazards that can make your customer sick. 
For instance, if you are working with raw meat there are biological hazards like E-coli and Salmonella bacteria that can contaminate the meat.  Any surface or equipment that comes into contact with the raw meat could have these biological hazards on them and need to be controlled to keep your customers from getting food poisoning.
Machinery used at certain points of the process could introduce a physical hazard like metal shards  which pose a danger to your customer and must be addressed as a hazard in  your HACCP plan.

 Allergens, such as shellfish, fish, peanuts, tree nuts, soy, sesame, dairy wheat and eggs are a significant food hazard. 

Any food allergen contained in your product must be included on the food label so the consumer can protect themselves if they have an intolerance or allergy to an ingredient.

Steps in your food process that could introduce allergens need to be noted. Allergens need to be carefully stored and used so they do cause cross-contamination. 

Any step in your process that introduces chemicals (such as equipment sanitizer) to the process or machinery needs to be noted.  
In the hazard analysis your entire process must be evaluated from the receiving of the ingredients to the delivery to your customer.
To ensure the safety of the ingredients you receive you need to make sure your suppliers have their own functioning food safety system like a HACCP, PC or GMP certification. 

Having pre-qualified suppliers or ingredients and packaging  is a PRP (pre-requisite program) that most manufacturers have in place. 

A PRP is any program that you have to help ensure the safety of your product before your process begins. 

After the hazards are identified the HACCP team must evaluate the severity of each possible hazard and how much it could harm the consumer and the likelihood of this occurring.

For instance if Listeria is found in baby formula it's an enormous risk because of the fragility of the population that consumes baby formula. This is an example of a food safety problem that cause a very severe hazard to a sensitive population. 

As for likelihood of occurrence,  it's much more likely that a  product like packaged lettuce which has a lot of moisture would have more bacterial growth, than a product that is pre-cooked and then frozen. 
Once the list of hazards is made you must list the "controls" you can use to eliminate, or reduce the hazards.
For example, if your product is packaged lettuce, the lettuce would be washed in a solution to control the growth of bacteria.  If your product is pre-cooked frozen hamburger patties, the patties would be cooked to a specific temperature for a certain amount of time to kill pathogenic bacteria which could be harmful to your customers. 
After all the hazards are identified, apply them to your flow chart at the appropriate steps. 
6. Determine Critical Control Points (HACCP Principle #2)
Now that you know which hazards could be the most detrimental to the health of your consumer and which are the most likely to occur, you need to determine at which point in your process you can control the hazard by eliminating it or reducing it to acceptable standards. These are called Critical Control Points.
In our example of ready-to-eat salsa, there is a CCP at the final step "serving at a cold bar". If the temperature of the salsa rises above a certain level there is potential for biological pathogens to grow. 
7. Establish Critical Limits (HACCP Principle #3)
Critical limits are the maximum and minimum levels needed to achieve control over the hazards at each CCP.
For instance, you may need to cook food to a specific temperature for a certain amount of time in order to kill biological pathogens. These parameters must be listed at each critical control point. 
For example, salsa must be kept at or below a minimum temperature of 40℉ according to the FDA in order to control bacterial growth.
8. Establish Monitoring Procedures (HACCP Principle #4)
There must be a way to monitor that any hazards were in fact controlled or stopped at the critical control point. Examples of monitoring could be logging times and temperatures needed to kill pathogens, swabbing for pathogen identification on sanitized equipment, testing the magnets used to detect metal in food to make sure they are working properly, and other measures. 
As monitoring measures are performed, the staff responsible for the monitoring must document and record their actions in monitoring logs. These monitoring logs must be maintained and available for retrieval for audit and inspection purposes. 
9. Establish Corrective Actions (HACCP Principle #5)
This step is needed when a hazard is not properly controlled at the CCP.

For example, let's say one of the HACCP team uses their Bluetooth thermometer and discovers that the salsa temperature is at 50℉ which is above the 40℉ maximum temperature. In this case, the corrective action would be to dispose of the salsa to prevent people from eating food that could have biological contamination. 
10. Establish Verification Procedures (HACCP Principle #6)
Firstly, the initial HACCP plan must be verified for validity by HACCP-trained individuals.  For example; if cooking at a certain temperature is needed to kill pathogens, the oven temperature must be verified to make sure the proper temperature is obtained.

If the HACCP plan is verified and followed precisely, there is less need for corrective actions later on, resulting in safer food and a reduction in costs. 
Verification procedures are in place so that when there is a failure in the HACCP system, compromised food can be targeted and dealt with in a manner that protects the consumer.
Additionally, the HACCP plan needs to be verified occasionally by an unbiased third-party auditor to ensure that it is being followed correctly. 
11. Establish Record Keeping and Documentation (HACCP Principle #7)
An important part of a HACCP plan is making sure that all actions associated with the HACCP plan are recorded and these documents are maintained and easily accessible. 
This means that the HACCP plan itself, any corrective actions, monitoring, and verification are documented and retrievable for audits, recalls, food traceability, labeling, batch management, training logs, etc. 
FDA's Food Safety Modernization Act rule 204 is legislation that requires food manufacturers to have food recall plans in place, food traceability, and record keeping. 
In the past, this meant having to maintain binders of documents to present during inspections and wade through when a recall needed to happen.
FoodReady can build your HACCP plan, create your food safety system, and get you ready for any 3rd-party audit like SQF, BRC, GMP, and GFSI as well as the Costco Audit. 
Why Choose FoodReady Food Safety Software?
1. Food Safety Expert Consultants
Dave Seddon, a FoodReady founder is a GFSI benchmarked standards auditor and food safety expert with 25 years of experience. Dave has performed SQF audits on over 500 facilities.
2. HACCP Builder
80+ HACCP / PCP Plan Templates. 
Biological / Chemical / Physical Hazards Database.  
Implement Critical Control Point (CCP) Logs with Bluetooth Thermometer Integration. 
Drag-drop flow chart builder. 
3. Operation Checklists
Easy 'Drag-Drop' Checklist Builder with Custom Controls such as Conditional If / Then Logic, Multi-Select Drop Downs, Max-Min Temperature and Numeric Values, and more.
Replace Excel Spreadsheets with "Grid View" Sheets available in the Mobile App.
Task Scheduling & Notifications.
Shipping and Receiving Logs and Inspections for Traceability.
Quality Control Signature Workflows for Deviations & Corrections.
4. Batch Management and Inventory Database
Batch / Production Run Management With Associated CCP Logs and Quality & Food Safety Checklists.
Recipe Formulation, Bill of Materials, and Lot Traceability Management.
Track Quantity on Hand, Work in Progress, and minimum quantity alerts with Inventory Management.
Purchase Order and Sales Order Management.
Integration with Quickbooks™ 
5. Traceability and Recall
Recall Plan & Mock Recall Management.
Product Complaint Tracking.
Receiving & Shipping Lot Traceability and Sales Order and Purchase Order Tracking.
Receiving GS1 Barcode Scanning.
6. Automated Supplier Document Management
Easily manage hundreds or thousands of required supplier documents in one place.
Automatically emails suppliers with document requests.
Save months of effort managing hundreds or thousands of files.
7. Monitoring and Verification
Real-time list of CCP logs and checklists for Management Review.
Generate Corrective Action Reports and CAPA Logs to address Deviations.
Real-Time Notifications if Monitoring Limits are breached or additional reviews are needed.
Pairable with Thermoworks Bluetooth thermometer for temperature monitoring.
8. Environmental Monitoring
Environmental Swabbing Documentation.
Organize Areas, Zones, Locations, Indicators, Pathogens, and Testing Frequency.
Testing Scheduler with Notifications and Reusable Templates.
Integration with Alliant Food Safety Labs and other 3rd Party Laboratories.
9. Cloud Based System with Mobile App
Real-time updates from employee's mobile apps are visible on the web system at any location.
English and Spanish versions of the mobile app. 
Compatible with Mac and Android.
FAQs About How to write a HACCP Plan
Why Choose FoodReady to Write Your HACCP Plan?
FoodReady's HACCP writers are certified and have years of real world HACCP and food safety experience. We use our software to write your HACCP plan, where you can record and keep any associated SOPs, PCs, time and temperature logs, etc. 
How Often Should a HACCP Plan Be Reviewed?
Your HACCP plan should be reviewed whenever there is a change in your process, when there is a trend in poor food safety outcomes, and also periodically, some companies review their HACCP plan annually and others review their plans more frequently. 
What are Some Benefits of Keeping Digital HACCP Logs and Associated Documents?
A digital HACCP system works much more efficiently for many reasons:
First and foremost, who wants to keep binders and binders full of papers that have to be waded through. A digital cloud based system removes the onus of the room full of papers.
Second, employees can document their actions in FoodReady's mobile app which will help keep them compliant.
Third, you can take and log photos for visual verification, link to a bluetooth thermometer for temperature controls.
Fourth, you can easily share your logs with inspectors.
Fifth, you can easily edit your HACCP when changes occur. 
Sixth, your HACCP plan also links to your batch management, your supply of ingredients, your recall plan, etc. FoodReady is your food safety solution.