Need food safety
HACCP Plans?
audit help?
certifications?
Use the power of software automation with a combination of expert food safety consulting for affordable and fast State / FDA / USDA Compliance, and GMP, CGMP, GFSI, SQF, BRCGS Certifications.
"We recently passed with flying colours our Costco audit and a three-day FDA inspection due to the unique combination of food safety experts with Quality Assurance experience and software to organize our Food Safety program and daily production records. As they say, FoodReady helps you Get Ready and Stay Ready for any inspection or audit."
Affordable Food Safety & Quality Management
FoodReady consulting and software automation ensures clients are audit and inspection ready. Spend 70% less time on document management with our digital system saving time, space and money. Obtain more efficient operations, certifications, product quality and grow your business.
Use any of our 80+ Food Safety-HACCP plan templates and 100+ SOP examples.
Clients save up to 70% of manual effort by switching to digital documents.
Successful audits resulted in clients receiving significant retail contracts.
We ensure clients are ready to pass their audits and inspections.
Food Safety/HACCP & Quality Management Consulting
We establish food safety and quality management system certification programs, train you to implement the programs in parallel with automated software, and work with you to pass audits or inspections.

Our team will use our HACCP / PCP Plan builder to create your custom HACCP or Food Safety Plan. Use the mobile app to track Critical Control Points.
Records Management Review
Our team can review the real time records and daily logs in your account to keep your process compliant and on track.

Audit Ready Documentation
We can help establish policies, programs, procedures, traceability, and more to ensure you are audit or inspection ready.

Work with certified, veteran, Quality Assurance managers with HACCP, PCQI, GFSI, SQF, cGMP and BRC audit and certification experience.
awarded by

Food & Beverage Technology Review
Top
Food Safety

Solutions Provider 2022
Ready to take the next step with us?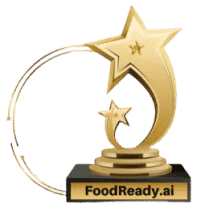 "All-in-One" Food Safety Management
Software
Save time and hassle by using real-time software intelligence to reduce paperwork and improve accuracy of your Food Safety / HACCP programs.  "Get ready and stay ready" for any 3rd-party audit or regulatory inspection. Use the mobile app to track daily food operational checklists, receiving inventory, production runs, corrective actions, Bluetooth temperature logs, and more.


Intuitive drag-and-drop process flow designer with click-and-choose hazard database to build your HACCP / PCP programs. Use any of the 80+ PCP/HACCP templates!

You can create custom checklists or choose from our vast checklist library of facility opening and closing procedures, inspection, sanitation procedures, quality, and more.

Batch & Inventory Database
Track your production runs, bill of materials, purchase orders, receiving & shipping traceability, inventory costs and more.
See FoodReady in action, no credit card required.
Give the FoodReady platform a try for free for 14 days.
Choose the best package for you
Food Safety and Quality Software and Consulting Services for anything – from large manufacturers to startups, from seafood processing to coffee roasting, from bakeries to kombucha brewers, from food service to grocers, caterers and restaurants. We are here to assist!
Manufacturer / Processor Compliance
All from Restaurants/Food Service
Certified HACCP/PCQI Consultant
Batch & Inventory Management
Receiving & Shipping Traceability
Recall & Mock Recall Management
Verification Dashboard
Supplier Document Management
Operational & Quality Checklists
Restaurant / Grocery / Food Service
Certified HACCP Consultant
HACCP Builder
HACCP CCP Logs Mobile App
Checklist Builder
Standard Operating Procedures
Document Version Control
(GFSI / BRC / SQF / ISO / GMP)
All from Manufacturer Compliance
Veteran Quality A & GFSI Consultant
GFSI Policy Documents
Environmental Monitoring App
On-Site GAP Assessment
Self-Audit Checklists
Quality Record Reviews
Food Safety Compliance & Certification
Hire our experienced food safety consultants to help you pass 3rd-party audits and regulatory inspections. 
Our HACCP Consultant will help you write and implement your HACCP Plan, Food Safety Plan and develop your complete Food Safety Program.
Our FDA Consultant will help you prepare for FDA and FSMA compliance (including FSMA 204) along with creating any HACCP or PCP plans needed for your upcoming inspection. 
Our SQF Consultant will help you prepare for and pass your SQF audit by creating a SQF compliant food safety system for your facility.
Our GFSI Consultant will help you write and implement your HACCP Plan, Food Safety Plan and develop your GFSI compliant Food Safety Program.
Our BRC Consultant will help you write and implement your HACCP Plan, Food Safety Plan and develop your BRC compliant food safety program.
Our GMP Consultant will help you write and implement your HACCP Plan, Food Safety Plan and develop your GMP "audit-ready" food safety system.
Contact us to speak with one of our food safety planning experts.

We'll help you select the right package for the right price for your business.

Fill out the form to schedule a consultation.